Do jezera je le nekaj minut hoje, v bližini so tudi trgovine in restavracije.
Balkon in odprt pogled na Julijske Alpe
Opremljeni so s klimatskimi napravami, prezračevanjem, hitrim wifijem in sefom.

☺Prijaznost gostitelja. Razgledi in mirna okolica

Exceptional

Friendly host, good area, close to lake ☺ Location is really good and the hosts are super feiendly and helpful. ☹ Booking said lake view, but there was no lake view. It was a stunning view on the mountains across the lake though.

Very good
☺Vse, odlična lokacija za izlete v visokogorje, prav tako bližina do plaže jezera. ☹/

Excellent location, super friendly staff ☺ Eddi and his wife are always great hosts! Third time back in the apartment. Beautiful location and good utensils.
Superb

Super gostitelja, prijazna, vljudna. Če smo kaj potrebovali, sta nam bila ves čas na voljo. Urejen apartma. ☺Sobe so bile zelo lepe in ciste. Lep razgled iz nasega balkona in pa vsec nam je bil spodnji prostor za druzenje.

Very good

Superb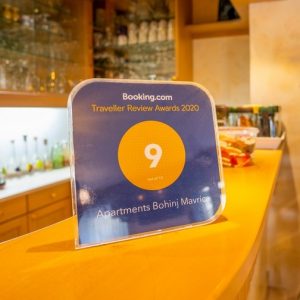 Call us for help and reservations by phone!